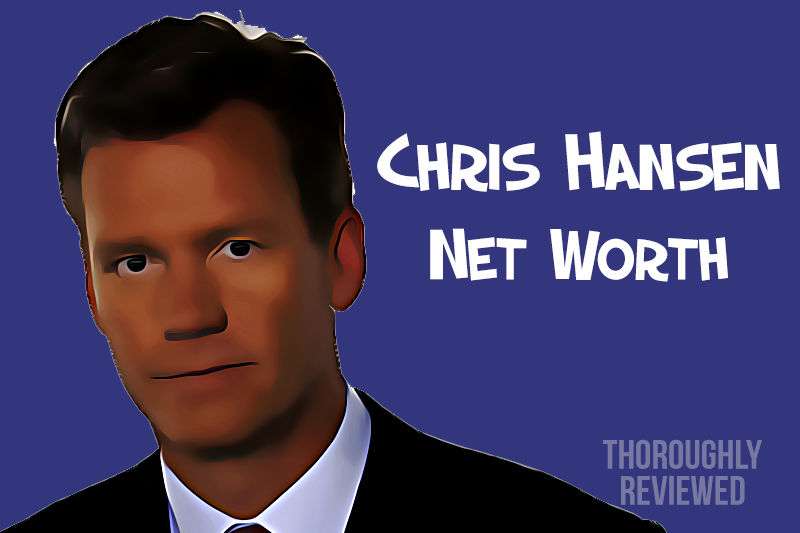 Chris Hansen Quick Facts
Chris Hansen Net Worth
Chris Hansen's net worth is $1.5 million. He made much of his money from hosting "To Catch a Predator," which, believe it or not, is a reality show about catching sexual predators.
He makes an estimated $3,000 per episode on his podcast Have A Seat With Chris Hansen which currently has over 100 episodes to date.
His only other source of income is his YouTube Channel which doesn't bring in much money but his videos are gaining steam. He currently has 375k subscribers.
Hansen's net worth at one time was between $12-15 million but legal troubles and controversies crippled his worth.
Chris Hansen Early Life
Chris Hansen was born in Chicago, Illinois on September 13th, 1959. He and his family eventually moved to Birmingham, Michigan where he attended Brother Rice High School in Bloomfield Hills, Michigan. After graduation, he headed to Michigan State University receiving his Bachelor of Arts degree in telecommunications and graduated in 1981. He also worked for the campus radio station as a news reporter while at Michigan State.
Chris has been captivated by investigative journalism since the age of 14 when Jimmy Hoffa disappeared near his home. Hansen would ride his bike to the crime scene and observe the way the FBI conducted their investigation as well as watching the famous reporters covering the story.
Chris Hansen Career
Chris' first opportunity was a short-lived show called Now with Tom Brokaw and Katie Couric. Shortly after he was brought on as an anchor for NBC's Dateline specials where he was able to cover more high-profile, in-depth news stories. Some of those stories included horrible events such as the Columbine Shooting, The Unabomber and The Oklahoma City Bombing.
These stories jumpstarted Hansen into investigative journalism and he began covering stories about counterfeit drug sales in China, child trafficking and child labor laws. He also played an integral role in 9/11 and Osama Bin Laden's whereabouts.
In 2004 Hansen was tapped to host the series To Catch a Predator which basically aired grown men soliciting younger children for sexual encounters. Once the suspect entered the home, Hansen would appear instead of the child they were chatting with. Hansen would grill the culprits before law enforcement would show up and apprehend the person. The show aired from 2004-2007 and Hansen became somewhat of a pop culture icon. Memes and online celebrity news followed him.
The show was so wildly popular that a few spin-offs developed such as To Catch An I.D. Thief and To Catch A Con Man however these shows screeched to a halt when online pictures surfaced of Hansen and a mistress. He was ultimately fired from NBC and went on to host Investigation Discovery's Killer Instinct, unfortunately for Hansen, the show only made it for 10 episodes.
In 2016, He became the host of the second season of the syndicated news program Crime Watch Daily. He also launched Hansen vs. Predator, a reboot of To Catch a Predator, during his stay on the show. After three seasons, the show came to an end in June 2018. Hansen currently maintains a YouTube channel called Have A Seat With Chris Hansen, which has weekly podcasts and conversations with notable guests. He doesn't have anything else on his plate other than that.
Chris Hansen Personal Life
Chris Hansen is married with 2 sons. He married Mary Joan Gleich on November 18, 1989. She even stuck by him after news of his affair in 2011 became mainstream. Eventually, his wife filed for divorce on June 5, 2018, claiming "the marriage has broken down irretrievably".
Chris Hansen Hobbies
Hansen loves playing golf and has a handicap of 5. His favorite course is Sunken Meadow State Park in Kings Park, New York. He's been playing since 1991, but only in recent years has he been playing more regularly.
Hansen loves to hike, bike and travel. He's hiked the Grand Canyon, Mount Whitney, Half Dome in Yosemite National Park, Koko Head Crater Stairs on Oahu and Maui's Iao Valley State Park.
His favorite destinations are Australia and New Zealand. He's been to both countries three times; once in 2003, 2014 and 2017 respectively. He does love traveling and has been all over the world including Europe, Asia and South America.
Hansen spoke of his favorite airport – Kona International Airport at Keahole in Hawaii where he said the people are friendly and it's one of the most beautiful airports he's ever seen.
Other than that, Hansen spends his time living a relatively quiet life with few public appearances and events aside from Crime Watch Daily. He stated on his podcast that he enjoys spending time at home with his family and doesn't pay much attention to social media or the current political climate in America.
He is an avid Michigan State Spartans fan as well as a fan of Detroit Redwings and the New York Yankees.