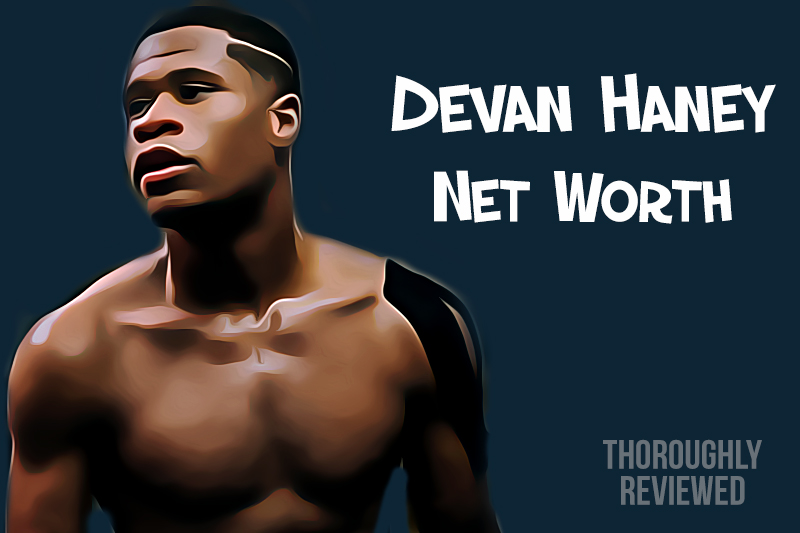 Devin Haney Quick Facts
Devin Haney Net Worth
Devin Haney earned the majority of his $6 million net worth from his fighting career in which he's had multiple title defenses. While not an official number, Haney reportedly earns $750k per fight. Haney also set up a promotions company which ensures he receives a much larger cut instead of paying a promoter, a savvy move. He also receives an undisclosed percentage of all of his fights Pay Per View purse. Haney was early in the social media and Youtube game and has created a loyal following, strengthening his funnel of income-generating streams.
Devin Haney Early Life
Devin Miles Haney was born November 17, 1998, in San Francisco, California before moving full time to live with his father in Las Vegas, Nevada. He was an active kid, playing football, basketball and other sports from a young age.
One day his father Bill received yet another call from Devin's school saying he had been in another fight. This time though, Bill would have to take off work to come in and meet with the principal and the other kids' parents. Bill was going to teach Devin a lesson once and for all. He picked Devin up from school and was determined to show Deven that he wasn't as tough as he thought he was. Bill arranged for Devin to go to a place with trained fighters.  'You know what, Devin? You think you can fight?'" Bill remembers.So he said, 'I'm going to take you to a boxing gym where there are some kids who REALLY know how to fight. And we're going to see what you do then.' And he said, 'OK.' He had no fear. "So I took him. I was hoping he was going to get his butt kicked honestly, but this kind of backfired." Devin ended up whipping up on some karate kid, knocking one of his shoes off and bloodying his nose and mouth.
Former heavyweight contender Derrick Harmon was a trainer in this gym and watched Devin fight and told his father that he was a natural. While Devin was a good athlete in the other sports he played, no one had ever described him as a "natural" in anything. And before you know it, Devin was participating in his first official match at only 8 years old. He won. Devin wasn't particularly sold on the idea of boxing, he missed team sports and wanted to "just do kid stuff." Boxing was a singular sport and he missed the comradery of team sports. Around 13-14 years old things changed, Devin told his father "I'm not losing no more" and from then on, they started the work to put Devin in a position to be the best.
Devin had a meteoric rise through the junior/amateur ranks of boxing. He didn't go undefeated like he proclaimed he would but he did amass an impressive record of 130-8 on his way to winning the U.S. Youth Championships and defeating super-hyped boxer, social media titan Ryan Garcia both times. Bill supported his son along the entire way, even starting his own boxing gym in Las Vegas named 'The Hit Factory' which he eventually sold to fund Devin's career. Bill has been close to his son's career from the onset, he is a music industry veteran who's worked with artists like Aaliyah, Tank and Too Short, and has seen firsthand how youngsters can get swept up in the hype and lose focus.
Devin Haney Career
Devin Haney turned pro at 17 but due to a minimum age regulation, his first four professional fights were scheduled in Mexico. Haney feels fighting in Mexico really strengthened his mental toughness. Fighting on foreign soil and having every person, except the crew you came with, hating your guts and rooting against you. Fortunately for Haney, he beat them every time. As a professional, he won the WBC Youth, IBF-USBA, IBF North American, WBC International, WBO Inter-Continental and WBA International lightweight titles as a professional.
In October 2019, Haney became the youngest world champion in boxing when he was elevated as WBC lightweight belt after previous champ Vasiliy Lomachenko had been promoted to "Franchise Champion" by their organization. Haney came under heavy scrutiny after comments about former champion Lomachenko saying "I"ll never lose to a white boy." People quickly jumped on Haney for his anti-white comments. Haney said it wasn't meant in a racist way, more so how Bernard Hopkins declared he'd "never let a white boy beat me" which he promptly lost to Joe Calzaghe.
His professional career has consisted of 27 fights in which he has one them all. 15 knockouts along with 12 decisions. On December 3. 2021 he successfully defended his title vs Joseph Diaz after Ryan Garcia withdrew due to an injured hand. He won by unanimous decision and afterward called out George Kambosos Jr. suggesting they fight it out for all 4 major belts. Haney's next fight has not been announced yet.
Devin Haney Personal Life
Haney was born to Rene and Bill Haney in 1998 in San Francisco, California he spent some time in Oakland, California before moving with his father to Las Vegas, Nevada. Far less is known about his mother Rene. As far as personal relationships, Haney is single despite being romantically linked to Blac Chyna. He reports they are just friends but that attention has helped his social media grow exponentially. He currently resides in Las Vegas and in April of 2021 he converted to Islam.