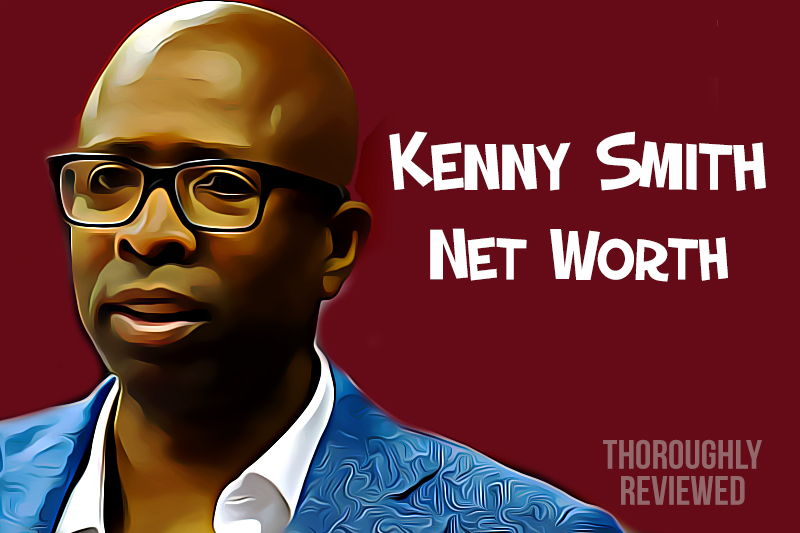 Kenny Smith Quick Facts
| | |
| --- | --- |
| Net Worth | $20,000,000 |
| Age | 56 years |
| Date of Birth | March 8, 1965 |
| Height | 1.91m / 6'3″ |
| Source of Income | Basketball Player |
| Residence | Encino, CA |
| Instagram | https://www.instagram.com/kennysmith/ |
Kenny Smith Net Worth
Kenny Smith has a total net worth of $20 million from his time as a professional basketball player from which he is now retired, as well as his current career as a television basketball commentator.
Kenny Smith Early Life
Kenny 'The Jet' Smith was born and raised in the Lefrak City neighborhood of Queens, New York. Smith was hooked on basketball in this neighborhood from an early age.
Smith attended Archbishop Molloy High School, where he was lucky enough to be coached by Jack Curran. The legendary coach with the most wins in New York City and State history and has helped many stars to greatness, including Smith who was named a McDonald's All American in 1983 before playing college basketball for Dean Smith's North Carolina Tar Heels team.
In high school, Smith attended lectures from the great South Carolina State Division II All-American Bobby Lewis and credits the star with his development as a ballhandler and a shooter. Smith said, "He's the greatest lecturer ever. He had the greatest guidance in terms of my workout routine without question."
In college as a freshman, Smith joined Michael Jordan on the UNC Tarheel's basketball team where they were ranked preseason #1. With multiple trips to the NCAA tournament, by Smith's senior year he was a consensus 1st team All-American. Smith was also fortunate enough to play for his country in the 1986 FIBA World Championships on a team that featured current Golden State Warriors coach Steve Kerr, David Robinson and Mugsy Bogues.
Kenny Smith Career
In the 1987 NBA draft, Smith was selected as the sixth pick by the Sacramento Kings. Smith played under the tutelage of the great Hall of Famer Bill Russell until his firing midway through the season. Smith's stellar play, averaging 13.8 points and 7.1 assists per game, landed him a spot on the NBA All-Rookie Team (1st Team) and the Atlanta Hawks came calling and traded for Smith during the 89-90 season. Unfortunately, Smith would be coming off the bench in Atlanta behind their starting point guard Doc Rivers.
Smith left Atlanta for the Houston Rockets where he would spend the next 6 years. In 1990-91 Smith led the Rockets with 17.7 points per game and 7.1 assists per game on their way to a franchise-record regular season of 52-30. Former Rocket player Rudy Tomjanovich signed on as head coach and he, along with Smith and Olajuwon, led the Rockets to back-to-back NBA Championships in 1993-94, 1994-95. Youngster Sam Cassell was gradually cutting into Smith's playing time and eventually replaced Smith in the starting lineup.
The Atlanta Hawks released Smith before the start of the 1995-96 season and he was picked up by the Detroit Pistons for a short stay (9 games), followed by the Orlando Magic (6 games), before landing with the Denver Nuggets where he would end his playing career.
Kenny Smith Broadcasting Career
As good a player as Smith was on the court, he made the transition just as smoothly into the broadcast booth. Turner Sports signed Smith to be a studio analyst at the end of the regular season and playoffs in 1998. This job launched him into his current position amongst Ernie Johnson, Shaquille O'Neal and Charles Barkley on 'Inside the NBA.' Smith and his co-hosts are responsible for multiple Emmy Awards for Outstanding Sports Show. He moonlights as an on-court analyst for the New York Knicks as well as the Division 1 Men's Basketball Tournament.
Kenny Smith Personal Life
Smith has been married twice. His first was to Dawn Reavis, and they have two children together- Kayla an R&B singer and KJ who is a basketball player at UNC where his father attended university.
After divorcing his wife in 1999 after 12 years of marriage, Smith met English model Gwendolyn Osborne at a charity event in 2004. They dated exclusively until 2004, eventually marrying 9 months later. Smith and Osborne have two children together, daughter London in 2012 and son Malloy in 2008. Smith also stepped in as a stepfather for Osborne's daughter Monique. The former 'The Price Is Right' model officially filed for divorce from Smith in 2018
Kenny Smith Hobbies
In front of the camera, Smith is a jokester and makes fun of his fellow analyst Charles Barkley often. He likes to golf and is a fan of Carolina Panthers quarterback Cam Newton. In his spare time, he enjoys working out and going to church when in LA.
In 1994, Kenny was featured in Michael Jordan's iconic 'Gatorade' commercial where he famously threw down an old-fashioned two-handed dunk over His Airness. Off the court, Smith has been very involved in charity work, especially with underprivileged youth after seeing so much bad during his childhood in New York.