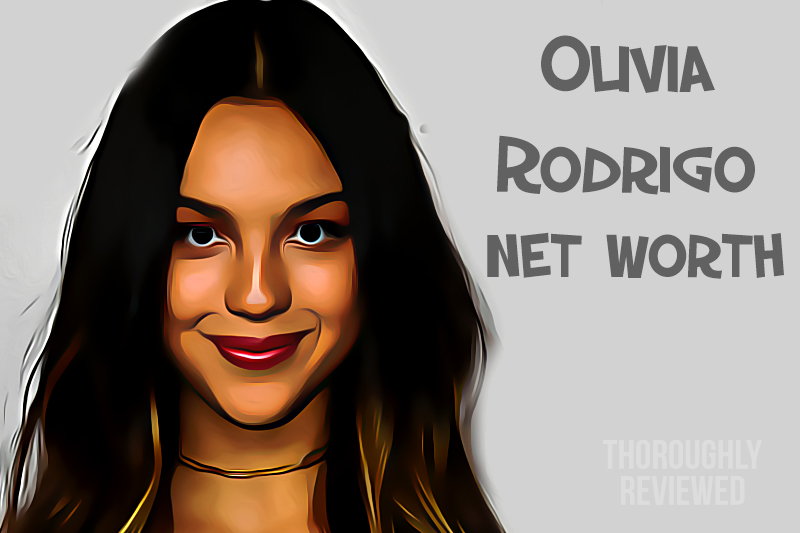 Olivia Rodrigo Quick Facts
| | |
| --- | --- |
| Net Worth | $5,000,000 |
| Age | 18 years |
| Date of Birth | February 20, 2003 |
| Height | 5 ft 5 in (1.65 m) |
| Source of Income | Musician |
| Residence | Los Angeles, California |
| Instagram | https://www.instagram.com/oliviarodrigo/ |
Olivia Rodrigo Net Worth
Olivia Rodrigo is an American singer and actress whose net worth is $5 million. She was born in the United States. Olivia first gained recognition as a child actress on a number of Disney television series. She is also a tremendously accomplished musician and social media celebrity who has amassed a large following.
Olivia's first album, "Sour," will be released in May 2021 by Geffen Records under her own imprint. A number of hit songs were released from the album, including "Drivers License," "Deja Vu," and "Good 4 U."
Olivia Rodrigo Early Life
Olivia Isabel Rodrigo was born February 20th, 2003, in Murrieta, Ca, to parents who were both schoolteachers. She grew up in nearby Temecula, California. On her father's side, she is of Filipino descent, while on her mom's side, she is of German/Irish descent. Olivia has two siblings.
As a young child, Olivia began taking acting and singing lessons at the age of six, and she quickly found herself performing in local theater performances. After being influenced by her parents' appreciation of alternative bands from the 1990s such as Green Day, No Doubt, and Pearl Jam, she began taking guitar lessons at the age of 12.
Olivia began seeking professional acting opportunities shortly after, obtaining some modeling and commercial work in the process. An ad for Old Navy was one of her first significant successes.
"Grace Stirs Up Success", a straight-to-video film released in 2015, was her first feature film role. She would later appear in the film, which was eventually broadcast on the Disney Channel and Netflix, albeit her name was misspelled in the credits on the latter, which read "Olivo Rodrigo."
Olivia Rodrigo Career
Bizaardvark
Olivia was cast in a starring role on the Disney Channel sitcom "Bizaardvark" in the year 2016. On the show, she co-starred with Jake Paul, another future social media celebrity who was also on the show. Olivia starred in the series for the full duration of its run as Page Olvera, which was from 2016 to 2019.
Other Roles
Olivia began starring in the Disney+ series "High School Musical: The Musical: The Series" in January of this year. Olivia wrote and performed the songs "Just for a Moment" and "All I Want" for the project's soundtrack, which can be found on her official website.
Singing Career
Olivia secured a recording contract with Interscope/Geffen Records in late 2020, which will be released in early 2021. A fairly unusual move for a rookie artist, Olivia was successful in negotiating the right to own all the masters of her work from the beginning of the recording process.
Her first single, "Drivers License," was released on January 8, 2021, and became a hit. She co-wrote the song, which immediately became the most streamed music on Spotify on a daily basis for a non-holiday tune, breaking the previous record. She set a new world record TWO times. Worldwide, it was streamed 15.7 million times on January 11 and 17 million times on January 12, according to data from the Nielsen Company. With 80 million streams in less than a week, the song becomes the first in Spotify history to accomplish this feat.
The song debuted at number one on the Billboard Hot 100 and reached the top of the charts in Norway, the United Kingdom, the Netherlands, New Zealand, Australia, and Ireland, among other countries.
On April 1, 2021, she released her second song, "Deja Vu," which was written by her. This song debuted at #8 on the Billboard Hot 100 chart. Because of this placement, Olivia became the only artist in history to have both of her first two singles debut in the top ten of the Billboard Hot 100.
On May 21, 2021, she will release her full-length album "Sour." The album would go on to spend five weeks at the top of the Billboard 200 list following its release.
Songwriting
Olivia has collaborated with Dan Nigro on the majority of her songs, which she co-wrote with him. She has credited other artists with songwriting credits in the past. So, for example, on the song "Good 4 U," she eventually gave Paramore members Hayley Williams and Josh Farro credit. In the song "1 Step Forward, 3 Steps Back," she gave thanks to Taylor Swift.
Social Media
Currently, Olivia has around 17 million Instagram followers, 1.5 million Twitter followers, 10 million TikTok subscribers and 7 million subscribers on YouTube, where her channel has had in excess of 3.6 billion views. Olivia also has approximately 1.5 million fans on Facebook.
Olivia Rodrigo Personal Life
Olivia appears to be single and living it up in her newfound stardom. She has been linked to co-workers Joshua Bassett and Ethan Wacker.
On July 13, 2021, Rodrigo took part in a White House initiative to promote COVID-19 immunizations among US youth. President Joe Biden, Vice President Kamala Harris, and President Obama's Chief Medical Advisor Anthony Fauci all met with her to talk about her initiatives.. According to a CNN story, Rodrigo plans to produce videos highlighting the need of vaccinations for young people, as well as answering any questions they may have.
The Geena Davis Institute on Gender in Media has included Rodrigo as a speaker and panelist.
10 Unknown Facts About Olivia Rodrigo
1) Olivia Rodrigo is an American actress, model, singer and songwriter. Olivia Rodrigo's net worth is 5 million.
2) Her parents were originally from Mexico City but moved to California in search of better prospects when she was young.
3) She has 4 siblings – 1 older sister Jessica Garcia, one older brother Michael Garcia Jr., two younger brothers Elijah Rodriguez & Daniel Rodrigo.
4) The family currently live together in a 5 bedroom house that they own in San Diego near the Mexican border.
5) As a child, her father encouraged her to learn the names of all 50 states because he believed that it would help her to be more ambitious with her life.
6) Olivia Rodrigo's mother, Jessica Garcia, is a nurse who works in the trauma unit at UCSD Medical Center and her father owns a painting company.
7) Her parents encouraged all of their children to be actively involved with sports from an early age including swimming, soccer and tennis.
8) In 2001 she became the youngest finalist ever on NBC's broadcast competition show "Star Tomorrow" – a contest for young singing & dancing talents.
9) She was only 10 years old when she won runner-up of the 2011 Nickelodeon UK Kids Choice Awards. She also performed live at the ceremony.
10) Olivia Rodrigo's first acting role was when she played the lead in an independent film "My First Crush".
Check our page for more Net Worth celebrities!