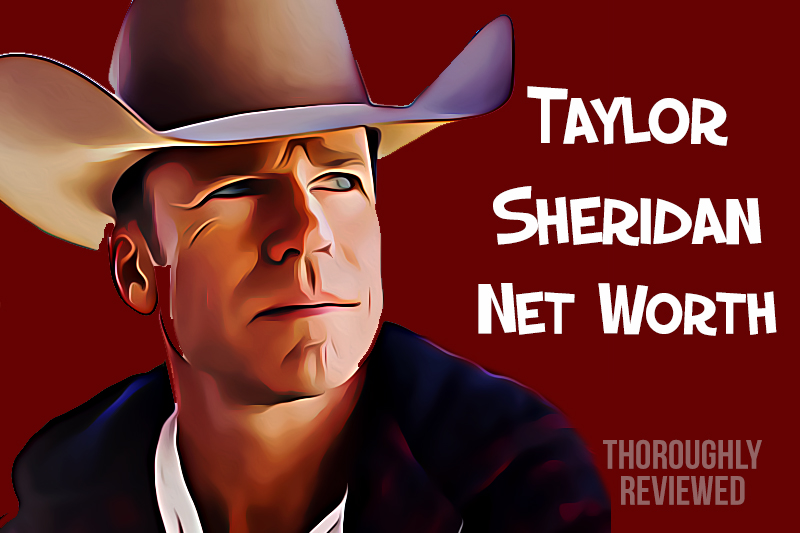 Taylor Sheridan Quick Facts
| | |
| --- | --- |
| Net Worth | $5,000,000 |
| Age | 51 years |
| Date of Birth | May 21, 1970 |
| Height | 1.78m / 5'10" |
| Source of Income | Actor |
| Residence | Cranfills Gap, TX |
| Instagram | |
Taylor Sheridan Net Worth
As of 2022, Taylor Sheridan's net worth is around $2 million. His wealth was accumulated through his acting, writing and directing in the United States.
Taylor Sheridan Early Life
Taylor Sheridan grew up in Cranfills Gap, Texas and grew up like many Texas ranchers in his area. His family did not have many resources and had they not lost their property in the '90s, "I'd still be living there," Sheridan says.
Sheridan attended Texas State University until dropping out and moving to Austin where he performed odd jobs painting and mowing lawns. While out job searching at a mall, a talent scout approached him and offered him a chance to go to Chicago to pursue an acting career.
Taylor Sheridan Career
Taylor Sheridan is an American screenwriter best known for his work on the hit series Yellowstone. Taylor began his career in acting. Landing small roles in Walker Texas Ranger and Veronica Mars. Most notable he played David Hale in Sons of Anarchy.
He didn't make the transition to the directing side until after his 40th birthday. His first film as a screenwriter was Sicario starring Benicio Del Toro and Josh Brolin and received multiple nominations for his work.
In 2017, Wind River starring Jeremy Renner debuted, his second feature as director. Wind River was widely released in the United States on August 18, 2017. During this year he also began finalizing his creation Yellowstone starring Kevin Costner and airing on the Paramount network. After rave reviews, the show was quickly renewed and is currently finished airing its 4th season. On the movie side, Sheridan recently released his move 'Those Who Wish Me Dead' on May 14th, 2021
Sheridan has made a name for himself in the Western niche. After finding success as a writer on the neo-western movie 'Hell or High Water' that garnered him a Best Original Screenplay nomination at the Academy Awards, Sheridan's newest work is a spinoff of the aforementioned Yellowstone named '1883' starring actors Isabel May, Faith Hill, Tim McGraw and Sam Elliott currently airing Sunday night on the Paramount network.
Taylor Sheridan Personal Life
Taylor Sheridan and his wife Nicole Muirbrook currently reside in Weatherford, Texas. They started dating in 2013 and married the same year. Nicole is 38 while Taylor is 51. When he's not writing or directing he enjoys time as a real-life cowboy.
Sheridan is part of the real estate group that purchased the legendary '6666 Ranch' in Texas. The 266,000-acre ranch is said to be twice the size of Chicago.
Taylor Sheridan's Favorite Things to Do
Taylor Sheridan was born in the state of Texas. He also spent most of his childhood growing up there as well. He's talked about how much he loves this state, especially because it has such amazing landscapes, allowing him to go hiking and hunting for days at a time.
Hiking and hunting are two things he loves to do when he can take some time off from his busy career. He's also a big fan of the music genre Americana and has been known to love listening to folk songs by artists such as Waylon Jennings, Johnny Cash and Willie Nelson.
Sheridan loves hunting and fishing, normally with friends or family. He also enjoys listening to country music including folk songs by Waylon Jennings, Johnny Cash, Willie Nelson, etc.
Sheridan loves riding horses and spending time with his family in between his busy career.
Taylor Sheridan Awards
Sheridan has won several awards throughout his career for both acting and writing. His first award was an ALMA Award in 2011 for Outstanding Actor in a Television Series for his work on the TV show 'Sons of Anarchy.'
In 2014, he won the International New Media – Fiction Association Award (INMFA) because of his film 'Vile.' That same year, he also won two awards for his writing work on 'Sicario' which is a 2015 crime drama film.
Sheridan's latest award, in 2016, was the Black Reel Award for Outstanding Actor in a Motion Picture for his most recent film 'Hell or High Water.'
Taylor Sheridan is the director of the successful movie 'Wind River' which garnered him multiple awards. He won his first award for Best Director at the 2017 Filmfare Awards. Later he received nominations for both of the movies released within one year, Sicario and Hell or High Water.
He also has two Emmy Award wins for his work on Sons of Anarchy for Outstanding Drama Series and Best Writing for a Drama Series. In 2017, he was nominated at the Golden Globe Awards for his work on Hell or High Water.
In 2018, Sheridan won both Best Director at the Toronto Film Critics Association Awards as well as Best Picture – Drama from the Washington DC Area Film Critics Association Awards. He also received a nomination for Best Original Screenplay from the Academy Awards.