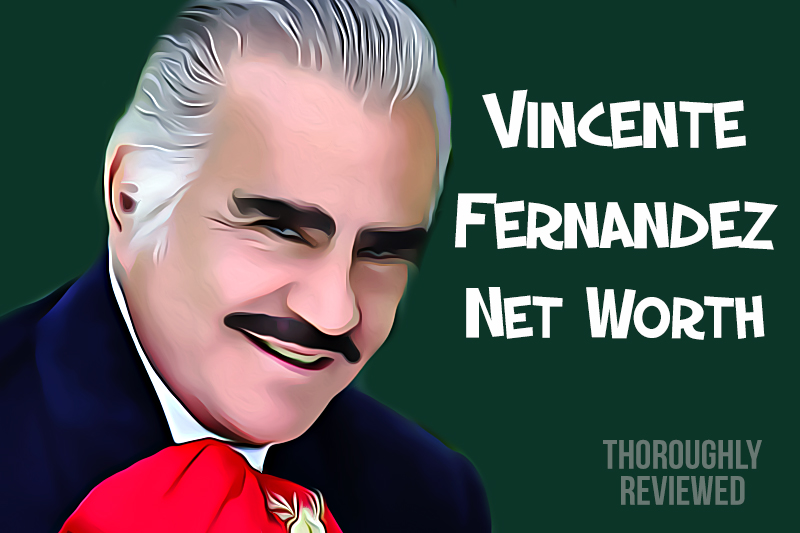 Vicente Fernandez Quick Facts
Vicente Fernandez Net Worth
Vicente Fernandez's net worth is $25 million. He made the majority of his money through his singing career. However, he was also an actor and producer. Fernandez won three Grammy Awards, 14 Lo Nuestro Awards and nine Latin Grammy Awards.
In his 50-year career, he sold more than 65 million records and recorded more than 80 albums and more than 300 songs.
Vicente Fernandez Early Life
Vicente Fernández was born on February 17, 1940, in Guadalajara, Jalisco, Mexico to a farmer and a housewife. Growing up, he dreamed of being an actor and also developed a passion for music where he was gifted with guitar. After finishing elementary school Fernández moved with his family to Tijuana where they worked as painters and bricklayers until his teenage years. During high school, he spent time working at his uncle's restaurant becoming known locally for singing in restaurants or weddings. He also excelled at the keyboard and played alongside various Mariachi Bands during this period.
He was just a young man living in Jalisco, Mexico when he was asked on a local radio station and people in the community really began to take interest. At age 21 he was selected for an episode of La Calandria Musical TV show which was his first paid show and introduced Vicente Fernandez to Latin America.
Vicente Fernandez Career
Fernandez's appearance on TV garnered him a large amount of attention so he moved to Mexico City to pursue his music career. CBS Mexico offered Fernandez his first professional deal, he went on to record albums "Palabra de Rey", "Ni en Defensa Propia" and Soy de Abajo".
In the 1980s Fernandez's style of music changed, he went from bolero ranchero to music more focused on the migration of Mexicans to the United States. In 1983 he released his album 15 Grandes con el Numero Uno, which was the first to top one million copies sold. These were the years in which he built his ranch "Los 3 Potrillos", which would end up being his music production center and the family ranch.
Dubbed the "Mexican Sinatra" by the 90's American media, Fernandez recorded classics such as Lástima que seas ajena (1993), Las clásicas de José Alfredo Jiménez (1990), and La mentira (1998). In 1998 his oldest son Vicente Jr. was kidnapped by the group "Mocho Dedos", who demanded $5 million dollars as ransom. After Vicente Fernandez paid $3.2 million dollars to free him Vicente Jr. was dropped off outside the family ranch 120 days later with two of his fingers amputated. Fernández and his family did all of this without going to the police; both he and his other son Alejandro continued to perform concerts to maintain the appearance of normalcy to the public. In 2008 the kidnappers were sentenced to 50 total years in prison.
The 2000s led to more success for Fernandez, he was involved in the opening ceremony of the 2011 Pan American Games. He recorded La tragedia del vaquero, which was certified platinum in the United States. He broke attendance records in many Latin American venues and was one of 50 singers involved in a concert after the 2010 earthquake in Haiti. On February 8th, 2012 Fernandez announced his intentions to retire.
Fernandez held a farewell concert in which he performed over 40+ songs in a span of 4 hours. 80,000 people were in attendance and went down as his largest concert ever. Another retirement paid tribute to his acting career which began in 1971 and saw Vicente Fernandez appear in over 30 films.
Vicente Fernandez Personal Life
On December 27th, 1963, Fernández married María del Refugio Abarca. Maria was the sister of his childhood friend. They had 3 children, Vicente Jr., Gerardo, Alejandro. Their fourth daughter, Alejandra, was his niece whom they adopted. He was accused of being unfaithful throughout his entire marriage which Fernandez disputes.
He had and beat cancer twice.
Controversies
Throughout his career, Vicente Fernandez was involved in many controversies. In February of 2019 in Houston Texas, Fernandez was scheduled for a liver transplant but ultimately denied the transplant. Fernandez stated he couldn't bear the thought of sleeping next to his wife "with the liver of another man that could've been a homosexual or drug user." 2 years later, Fernandez was accused of groping a woman's breast while taking a picture. He later issued a public apology and stated he didn't remember doing this and was very sorry. February of 2021 brought more heat as singer Lupita Castro alleged that Fernandez sexually abused her nearly 40 years ago. She never came forward because she was scared of the repercussions she might face. The accusations never made it to court.